Manufacturers
Information
More Information
Perches FLAGSTONE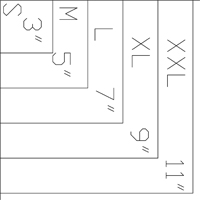 Keep in mind that all of our Perches come right from Mother Nature. We will always do our best to send them to you as close as possible to the size you order. The way we measure is if a perch fits in the size of the box in the diagram shown then that is the size. They most likely will not be a perfect fit. Please keep in mind they will come in all different shapes.The configuration of them depends on her, Mother Nature, not us! Benefits of a Flagstone Perch Flagstone Perches are an excellent Pedicure Perch by keeping your birds nails and beak trim all the while giving your aviary or cage a whole new "Natural" look! We have researched what would be best for your birds feet, nails and beaks. These perches are gentle on their feet yet will keep their nails and beaks trimmed down. They offer a place of rest for your Feathered Friend that they typically do not get in a cage enviroment. Think about it, is there something in your birds cage right now that gives them the opportunity to just sit and rest their feet muscles? If not then you should be ordering one or more of these right now! If they are having to constantly clench their feet muscles to stay in place, you need to get them a Bird on the Rocks FlagStone Perch. Let them get some well deserved rest! Place the Perch in the proper location in their cage and you will find them sleeping on them every night, all night!
There are no products to list in this category.
Who's Online
There currently are 15 guests online.
Your IP Address is: 3.214.184.223